Dr. Payne Summarizes Three Main Infant Ear Molding Systems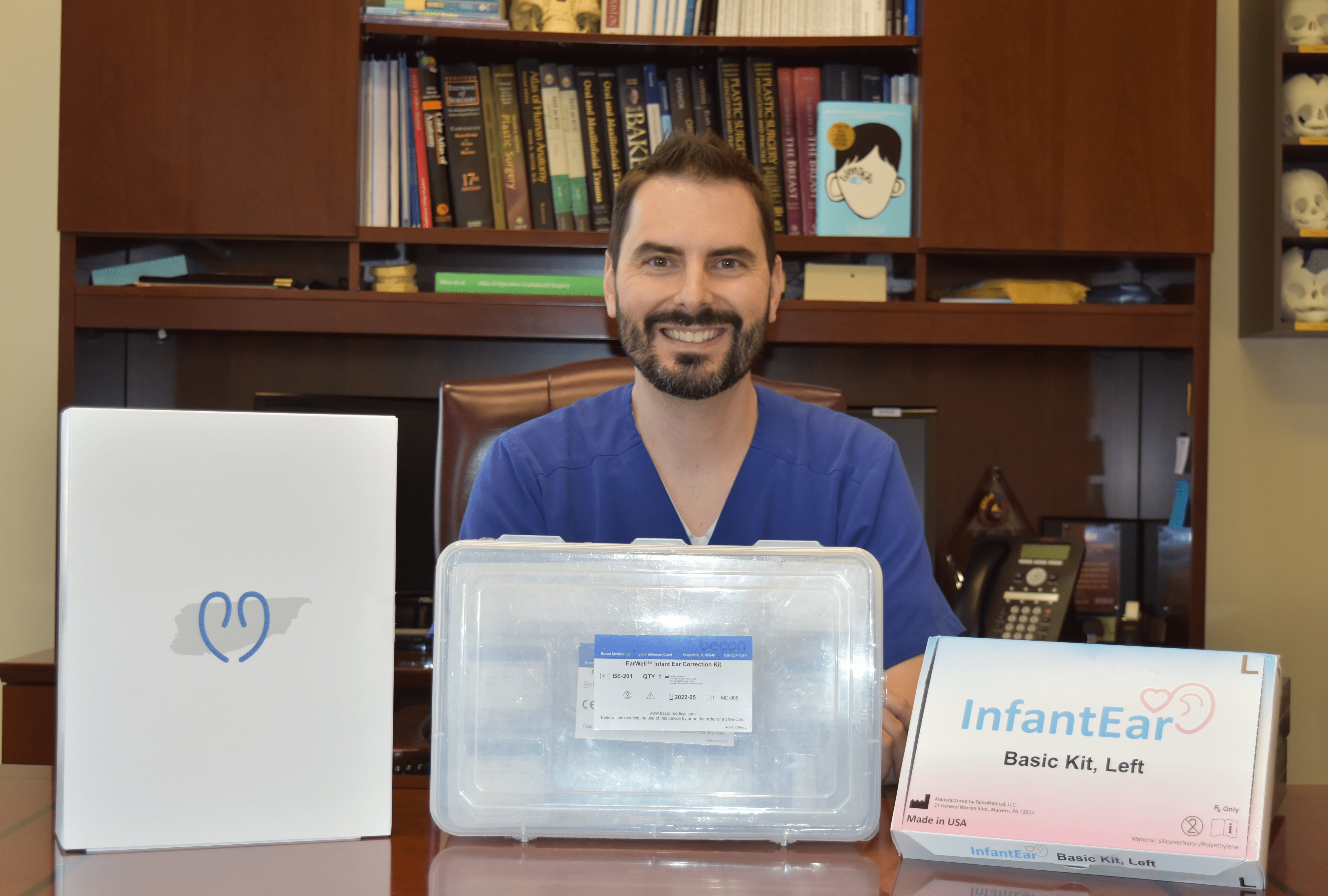 Ear deformities, which refer to the irregular development of an infant's ear, are not uncommon among newborns. Research suggests that roughly one-third of infants are born with some type of ear deformity in which the cartilage or soft tissues do not form into a conventional ear shape. Ear deformities usually do not resolve on their own, but a normal ear appearance can still be achieved without the need for surgery or invasiveness. There are three primary ear remodeling systems available to correct a deformed ear shape, each of which are summarized below by our craniofacial plastic surgeon Eric Payne, MD: 
EarBuddies™: Also referred to as EarPerfect™, EarBuddies™ is an ear molding system that uses small, pliable wires to reshape the ear cartilage. The wire insert can be bent into the desired position and fastened to the ear using a special skin adhesive included in the kit. Other parts of the EarBuddies™ system include a small beanie to keep your newborn from touching the molding device, a hair trimmer, an adhesive and tape remover, and a skin prep cleanser. While EarBuddies™ is typically the least expensive ear correction kit on the market, Dr. Payne notes that some babies do not achieve satisfactory results with this system. 
InfantEar™: The InfantEar™ system is designed to correct ear deformities using a biocompatible, C-shaped appliance that guides the ear cartilage into the proper positioning. The device is secured to the ear using a combination of skin adhesive, small conformers, and silicone gel, which hardens and keeps the different pieces of the structure intact when applied. It's important to note that the InfantEar™ kit is intended for one single treatment and can only treat one ear. The company advises a treatment length of three weeks, but Dr. Payne notes that most patients find it challenging to keep the device secured longer than 10 to 14 days due to the natural turnover of skin cells. 
EarWell™: The EarWell™ molding kit is the system Dr. Payne utilizes most frequently at his Houston practice, as well as the device he has been using the longest. EarWell™ is designed to foster growth of a normal ear shape using four pieces that cover the entire ear. Each kit comes in either a medium or large size to better conform the device to your newborn's ear, and all the pieces are secured with an ear molding putty and special skin adhesive. While EarWell™ can be a relatively more complex system to use when compared to other systems, Dr. Payne has found that the all-encompassing kit includes all the pieces he may possibly need, and the quality of results achieved have been superior. He was personally trained to use the device by the founder of EarWell™ , Dr. Steve Byrd. 
Dr. Payne states that treatment for deformed ears should start as early as possible while a newborn's ear is still soft and pliable. When used correctly, infant ear molding can allow the development of a normal ear appearance without the need for future surgery. Please see Dr. Payne's video below, where he explains each system in more detail: 
For more information about any of the three systems above, please contact our Houston craniofacial surgeon for a consultation.